Since launching in December 2021, Foodworks.online Professional has come a long way.
And we're not about to rest on our laurels. Recently, we welcomed two new enthusiastic team members to help propel us forward.
Our talented team is dedicated to continually improving Foodworks.online Professional. In its first 6 months, we've added many new features and enhancements.
Here are some highlights.
Highlights: January to June 2022
---
Foods for Special Medical Purposes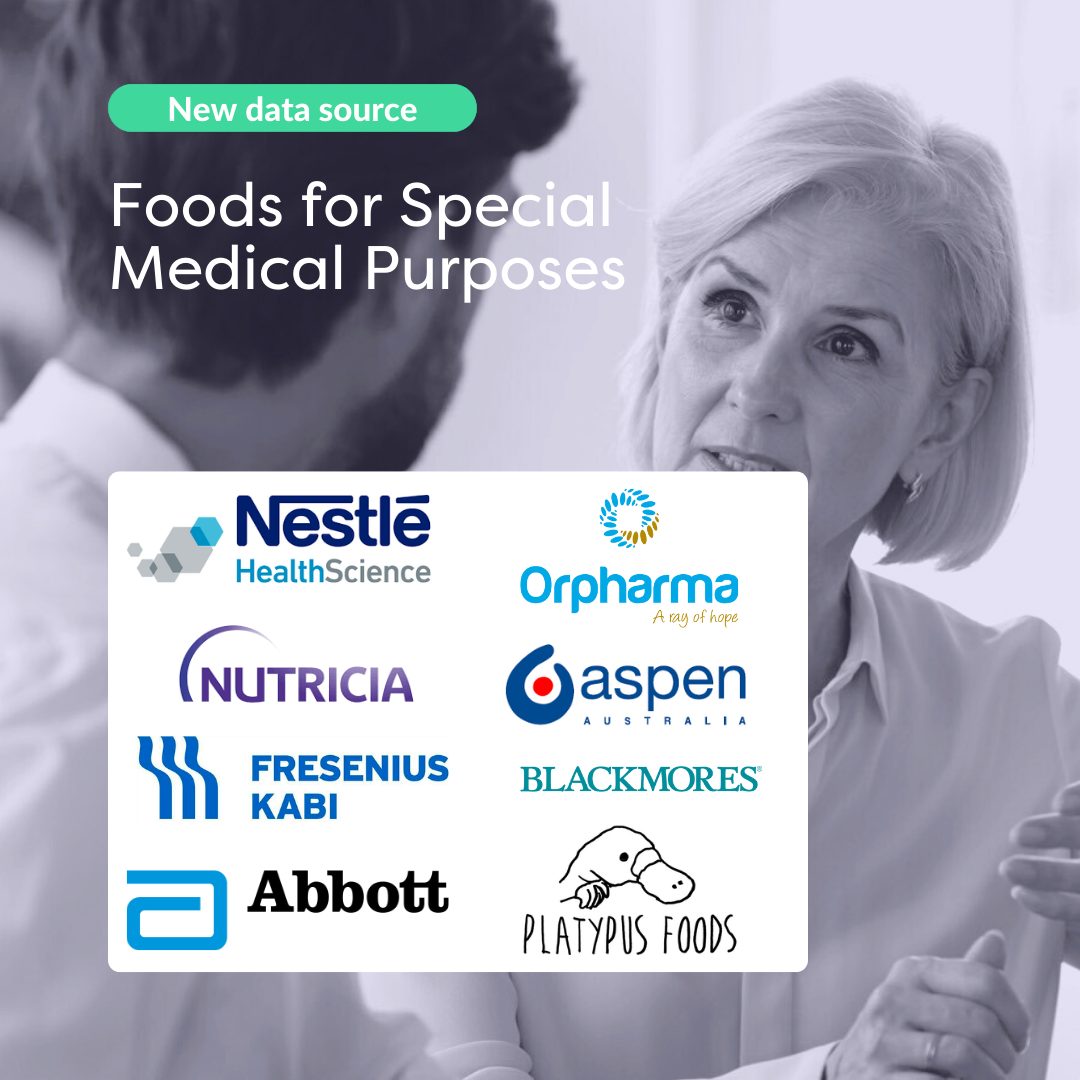 The Foods for Special Medical Purposes (FSMP) data source was created with clinical dietitians and nutritionists in mind. In FSMP 2021, you'll find functional foods often used for medical nutrition therapy, including infant formulas,oral nutrition supplements, enteral feeds and other formulated dietary products. Read more
---
Sample workspace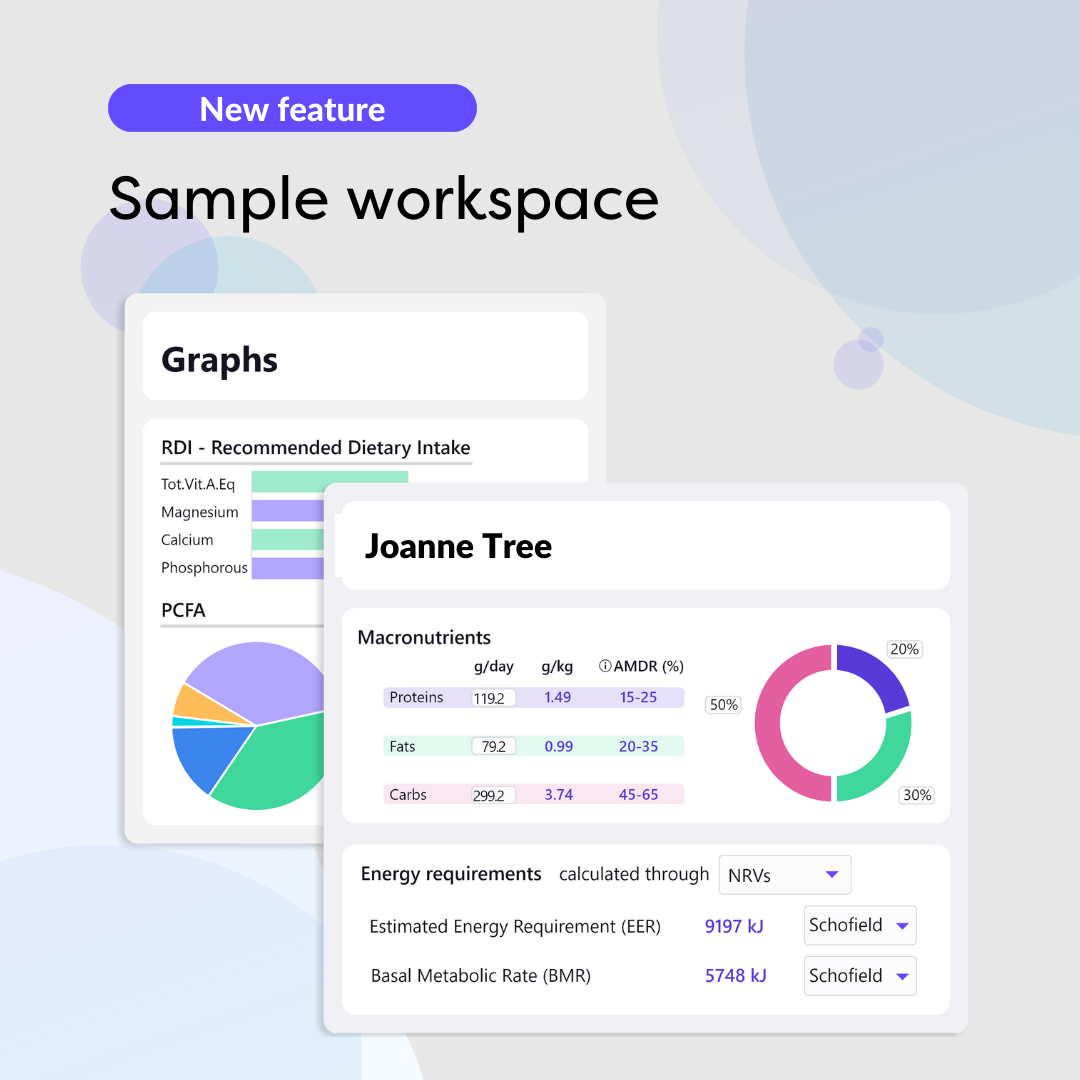 The sample workspace is a sandbox for you to play in. Get to know Foodworks Professional without first needing to enter any data. Here you can explore sample clients, as well as meal plans, recipes, food records and custom foods. Read more
---
Resource reports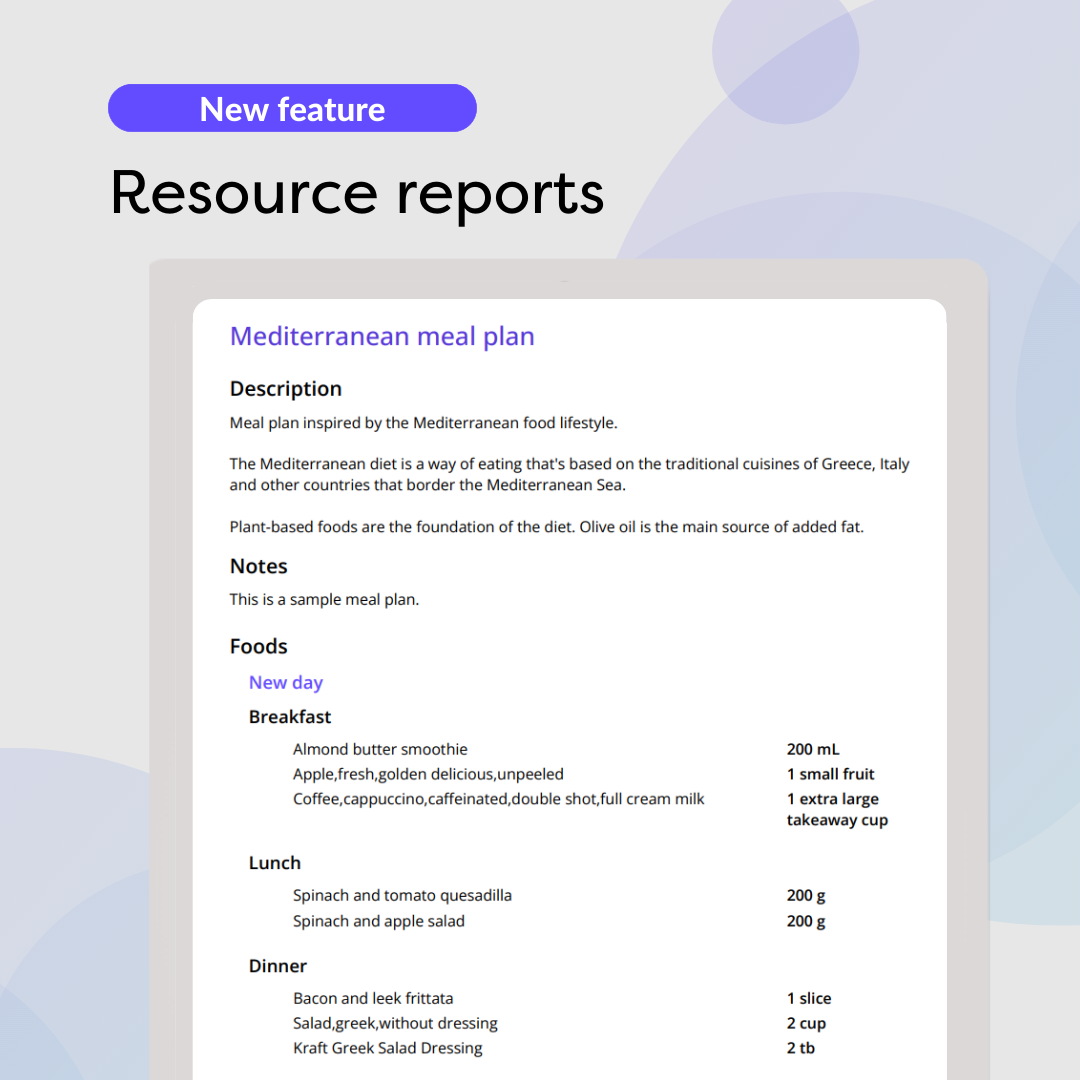 Create customised reports for your clients' recipes, meal plans and dietary recalls. Print the reports or save them as a PDFs. Read more
---
Two-factor authentication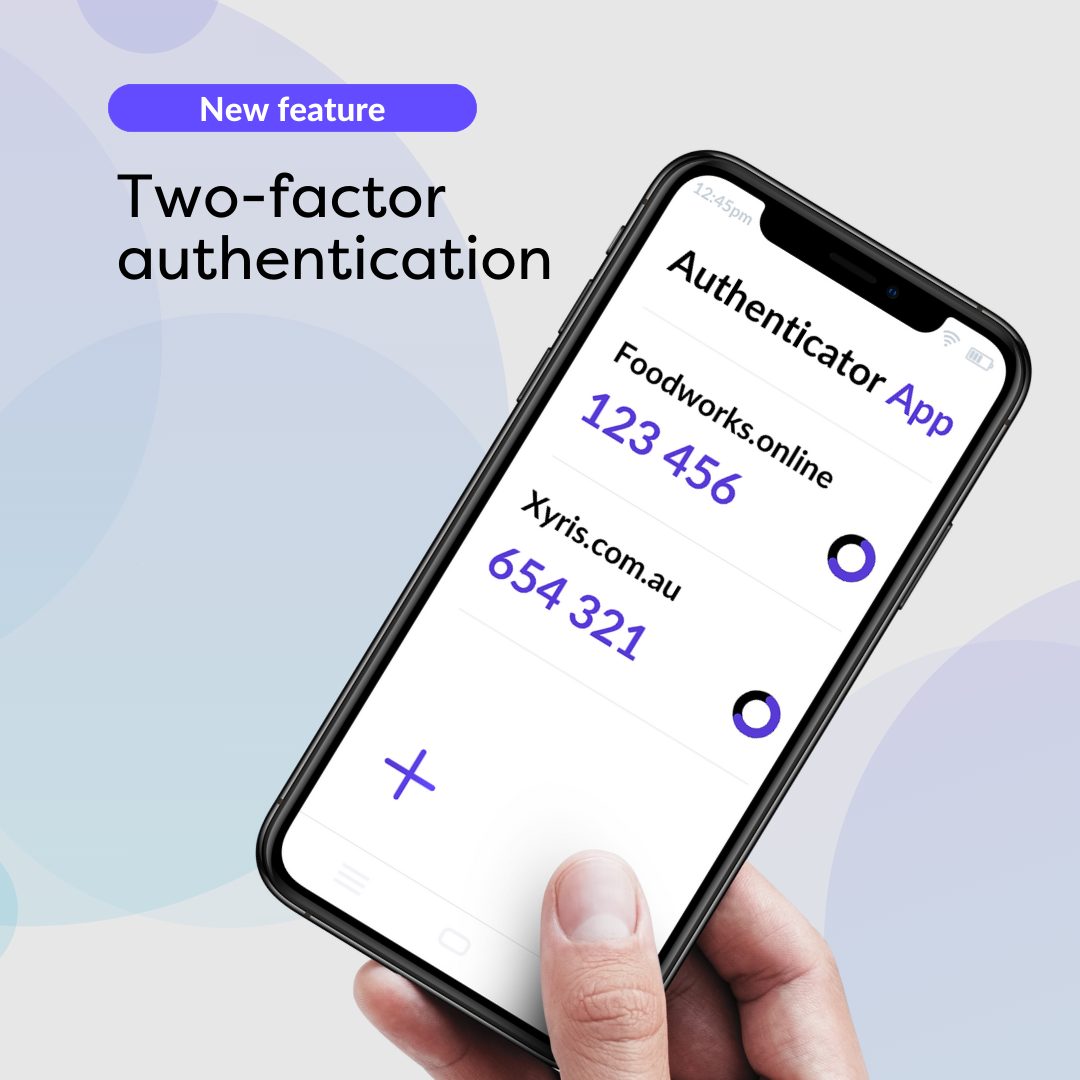 This security feature helps protect you and your Foodworks.online account by adding an extra step to signing in. With two-factor authentication, you use two different forms of identity: your password, and account verification through the use of an authenticator app. This means, even if someone else hacks, guesses or phishes your password, they'll be stopped in their tracks. How to set up two-factor authentication
---
And more…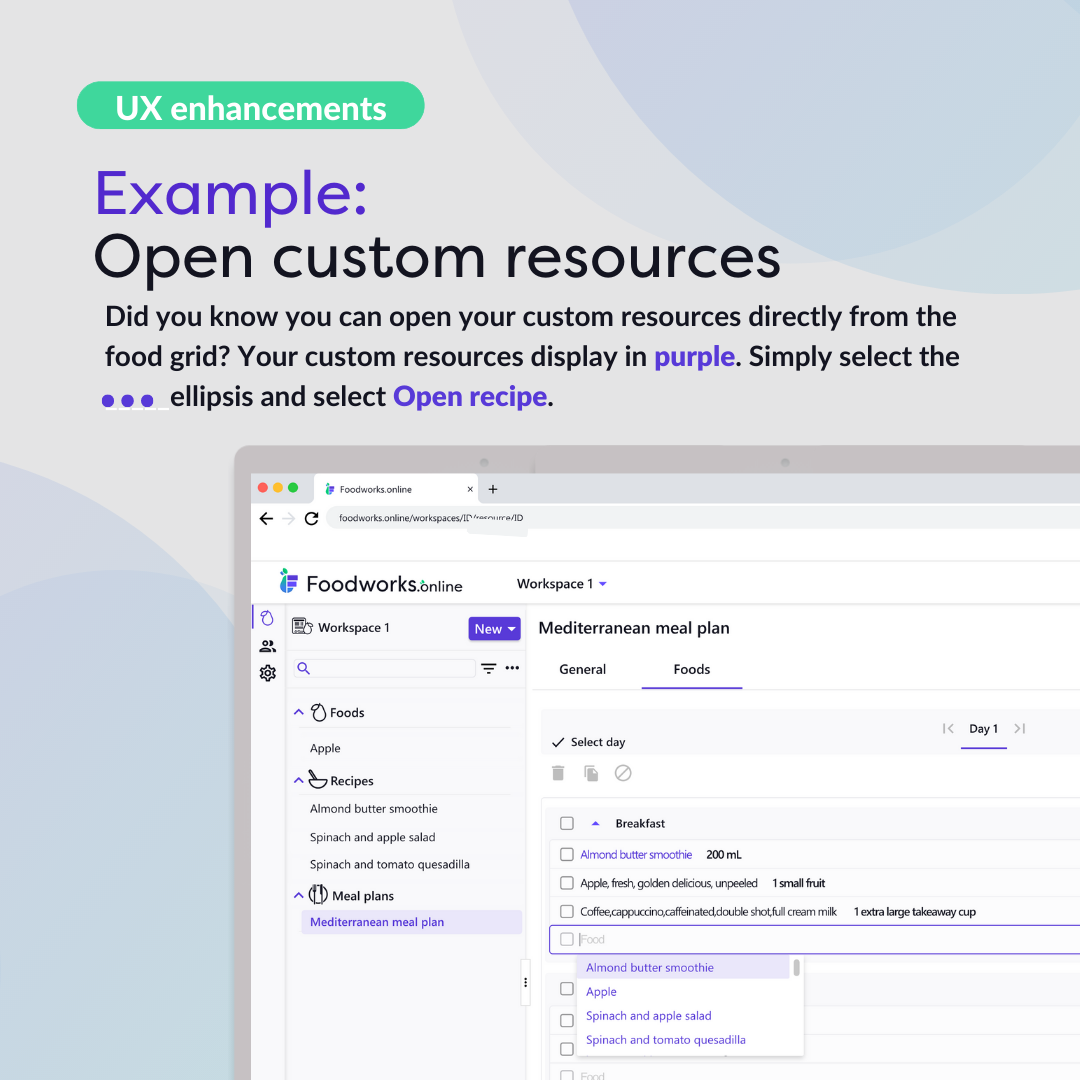 We've also added many minor new features and enhancements. Here's just a taste:
– Open your custom resources from within the foods grid
– See nutrient focus columns for custom resources
– Duplicate workspaces
– Copy any workspace resource to a client
---
We're always improving the useability, functionality, performance and aesthetics of Foodworks.online. Here's some of what's coming in the next 6 months:
Conversion tool to import your databases from FoodWorks 10 Professional
New Zealand and US food data
To see the updates to Foodworks.online Professional as they are released, check the changelog here.
And follow us on Instagram for all our news, as well as handy tips and tricks.
If you've got ideas for an improvement or addition to Foodworks, please let us know. We'd love your input.